Personal Faith Story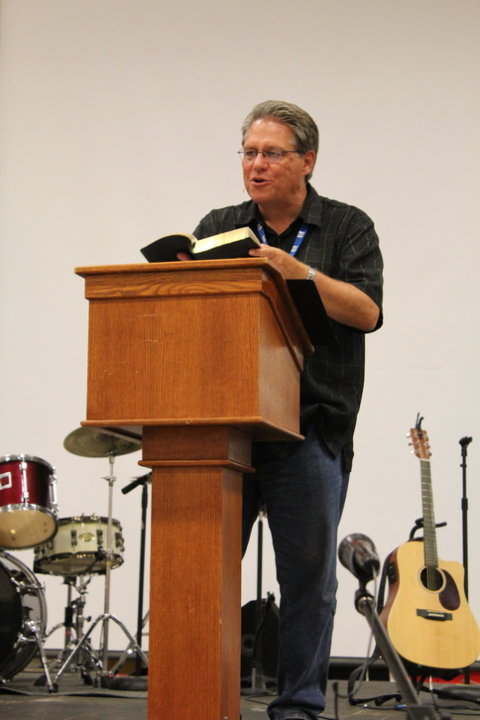 Beginnings
Born into a military physician's family
Lived in multiple U.S. locations
Broad international travel/schooled overseas
Secular upbringing led me to adopt a worldview of scientific atheism/humanism
Was an outspoken antagonist of Christians on high school and college campus
Conversion
I came to Christ out of a strongly non-Christian background. Although my mother was a Lutheran pastor's daughter from the Midwest, my father is a European immigrant and a highly successful psychiatrist with a worldview powered very strongly by scientific-atheism. My father's secularism and anti-faith positions became my own as I grew up, and I was soon an outspoken critic and antagonist of evangelicals in my high school and early college experience. It was not until a Christian college student challenged me to defend my atheism in a series of one on one debates that I came to see the historicity and validity of Biblical Christianity. I trusted in Christ as Savior and experienced an overnight mental and emotional transformation. I sought out the believers on campus whom I had antagonized and asked their forgiveness, and began immediately to share my new faith with others. Within a week I had led my best friend to the Lord, and the moment that happened, I knew that I was to spend the rest of my life sharing this message with people. I began to grow as a disciple through the ministry of Campus Crusade for Christ, changed my major from Pre-Med to Psychology, and began to pursue and prepare for full time ministry.
Early Ministry
Became involved in a large urban church (3000+ attendees)
Was selected for training as College Ministry Intern
Built a Friday Nite Outreach to collegians to reach 100+ students weekly
Church Elders affirmed my ministry gifting and called me as a College Team Pastor
Licensed to ministry
Built a citywide college ministry on several campuses in concert with a team of pastors
Attended Grace Graduate School of Theology and then Talbot Seminary while on staff
Blessed to be intensively mentored for several years by our College Ministry Team Leader, who is now Director of International Church Planting for GBIM
Was strongly influenced by the Expository Teaching methods of two senior Pastors: Dr. David Hocking (now with Hope for Today Radio) and Dr. Richard Mayhue (Now the Academic Dean, The Masters Seminary)
Met my wife, who became a women's group leader and teacher in our campus ministry
Married October 22 1983
Moved from College Ministry Staff into a series of roles in Adult Ministry, refining both my leadership and preaching abilities
Began a family with our first daughter, Lora, August 1985
Sensed a leading to move into the Senior Pastoral role
Received a call to our first Senior Pastorate
Early Senior Pastoral Career
Served as Senior Pastor for three churches in California
Details on these ministries are provided in my CV
Highlights:
Measured, consistent numerical growth
Resolving of unity issues
Re-tracking of ministries into mission-driven activity
Attraction and hiring of new staff members who became healthy additions to each church
Deepening of congregational health under consistent Expository Preaching
Increased evangelistic passion in each church due to teaching and example
Into the Marketplace
In 1993, in concert with advice from my denominational leadership and close ministry mentors, I made a decision to step out of full time pastoral ministry for a season in order to resolve a family health crisis. My Senior Pastorate during this time was in Shafter California, in the heart of the San Joaquin Valley. My wife had developed significant and sometimes debilitating respiratory problems due to the polluted air in the Valley, and we were advised to move to a better climate for her recovery. In addition, after the accumulated strain of years of productive but sometimes difficult ministry leadership, I determined that personally I was on the edge of burnout. In fact, although I could have pursued another call to a church, I didn't believe I could give a new ministry all that it would need until I had worked through the issues of my burnout. So we decided to relocate as a family and to engage in an alternate career path so Tina could regain her physical strength and I could pursue the inner health and reordering I needed. I assisted the Elders in transitioning the church to a new Senior Pastor and began work in the sales and marketing arena.
Over the next few years we relocated for a time to the Pacific Northwest, Tina's health issues were fully resolved, we were blessed with more children, and I underwent a successful healing of the issues of burnout as I supported my family through my sales and marketing career. During this time I worked in various sectors of the financial services industry, eventually transitioned into advertising and media sales, and began my own communications consulting business. Receiving a strong leading from God to re-enter ministry in 1998, we returned to California and eventually saw the doors opened for the radio and speaking ministry that we have so deeply enjoyed, and of course my present ministry as Teaching Pastor at Grace Bible Church.
Lessons Learned From the Marketplace/Broadcasting
In the early season of my ministry career, there were many times when I simply "performed" pastoral ministry. Now, I treasure it. You never gain a sense of something's value until you almost have to let it go.
My leadership style and insights have been amplified by my marketplace years. I understand people, performance and other perspectives with a view from "the other side of the pulpit" now.
My communicating/influencing skill-suite has diversified.
My awareness of and acceptance of the many expressions of the Body of Christ have become wider due to my radio and speaking ministry. I have learned to appreciate what God is doing in so many places, and to discern how to fit alongside the ministry of others instead of categorize them.
Changes of the Heart
Tina and I have a greater passion for ministry today than ever, due in part to the journey we've taken. Our children, without exception, are also sold out to impacting others for Christ, and we as a family are focused on making a radical Kingdom impact in the season that is before us.
My heart for lost people is stronger, and my "compassion circle" is larger.
The desire to develop emerging leaders is also deeper. This will be a high level interest in the next season for me.
The closeness we have built as family through this journey: irreplaceable.
My passion for Biblical Preaching is at its highest point ever. This ministry dimension, along with the practice of influencing and developing leaders, represents the major focus of my impact on any church that would partner with me for ministry. Clarity is power.
Leave a Reply
You must be logged in to post a comment.