Our Family
My wife's name is Tina. (In this photo, we're cutting the cake presented to our staff on Pastors Appreciation Sunday ). Tina and I  were married on October 22, 1983 after meeting in the College Ministry of our home church in Long Beach CA. We have been blessed by God with six children (five girls and a boy).
Tina came to faith at a young age due to the prayer life and godly influence of her grandmother. She has walked with Christ with sincere devotion since that time. Her heart for lost people was built very early in her walk, as she would share her faith using Gospel tracts during lunch on the junior high campus she attended. She became a leader in mentoring and teaching women on campus at Cal State Long Beach and at Brooks College in Long Beach. Her heart for God and her devotion to people caught up my own heart and soon we were married and in ministry together.
Tina received a B.A. in Liberal Studies from Cal State Long Beach with an eye toward working in Special Education. She worked for several years as an assistant in Special Education for the Los Angeles Unified School District. She also worked as a Sign Language Interpreter for the Deaf in various educational and clinical settings in Los Angeles and Bakersfield.  When our children became of school age we made the decision together to home school our children and Tina made the commitment to be at home.  The home schooling choice has been an excellent one for us. Our oldest two have graduated; our remaining children are enjoying the experience immensely.
In regard to interests, my wife has had a deep involvement over the years in a prayer ministry with women both inside and outside of our church, meeting individually and in small groups. A unique involvement for her in one on one personal work with women comes out of this ministry. Tina has also had an interest in Inductive Bible Study and has been involved in community groups of this type; she also has a deep discipline of reading through the Bible annually and developing a personal compilation of insights which she shares with our children and other women in conversations that the Lord creates. Tina also has an interest in helping develop ministries for people with Special Needs, both because of her training and because our youngest child, 8 year old Joseph, has Down Syndrome.
In regard to Tina's role in ministry, I think I have described to you the role God gives her in women's lives through her prayer ministry, and of course both she and all of our children are also involved in the everyday life of the church we serve. But I would say that our family is Tina's priority ministry.
Being involved in discipling our children is a critical and powerful element of her life, and being committed to bringing encouragement, counsel, and support to me as a pastor rounds out her full and meaningful  ministry role in our home.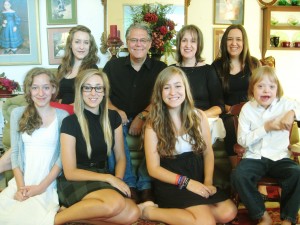 Our children are Lora (26), Audrie (23), Rachael (18), Clare (16), Abigail (12) and Joseph (10).
How do I balance the demands of ministry and the needs of family?
Over the years, I have learned that just as much as assuring quality time with my family is important (guarding regular days off, taking family vacations, spending some extended fun times together regularly, and supporting all the activities of my kids with my presence), it is equally important that I assure the quality of who I am when I'm present with my family. By this I mean assuring that the difficult emotional and mental burdens that a pastor sometimes faces in ministry don't find their way home and inhabit my mindset while I am with my family. I call this "Monitoring My Negative Charge". I have allowed my family members the freedom to be the ones to tell me when I am putting them in second place emotionally; often I don't see it happening because I can care so much about ministry and the people in my ministry. To put it another way, my family members are the ones to tell me when I 'm not making them a priority. When they speak, I listen.
In addition to this, I guard against taking on too many commitments. My philosophy of leadership actually involves equipping other people to be just as effective as I could be in many situations, so I don't want to "own the assignment" on most of the things in ministry.  Ask any of the people that work with me in ministry and they'll tell you that a "control freak" I'm not.  I teach my congregants to recognize that "No" is actually a Biblically acceptable word from me at times (with explanation) when it comes to some added commitments, especially last minute ones.
Leave a Reply
You must be logged in to post a comment.